FOLLOW US
April 6, 2014
Cuban Legend GERARDO ALFONSO
Live Concert in Vancouver!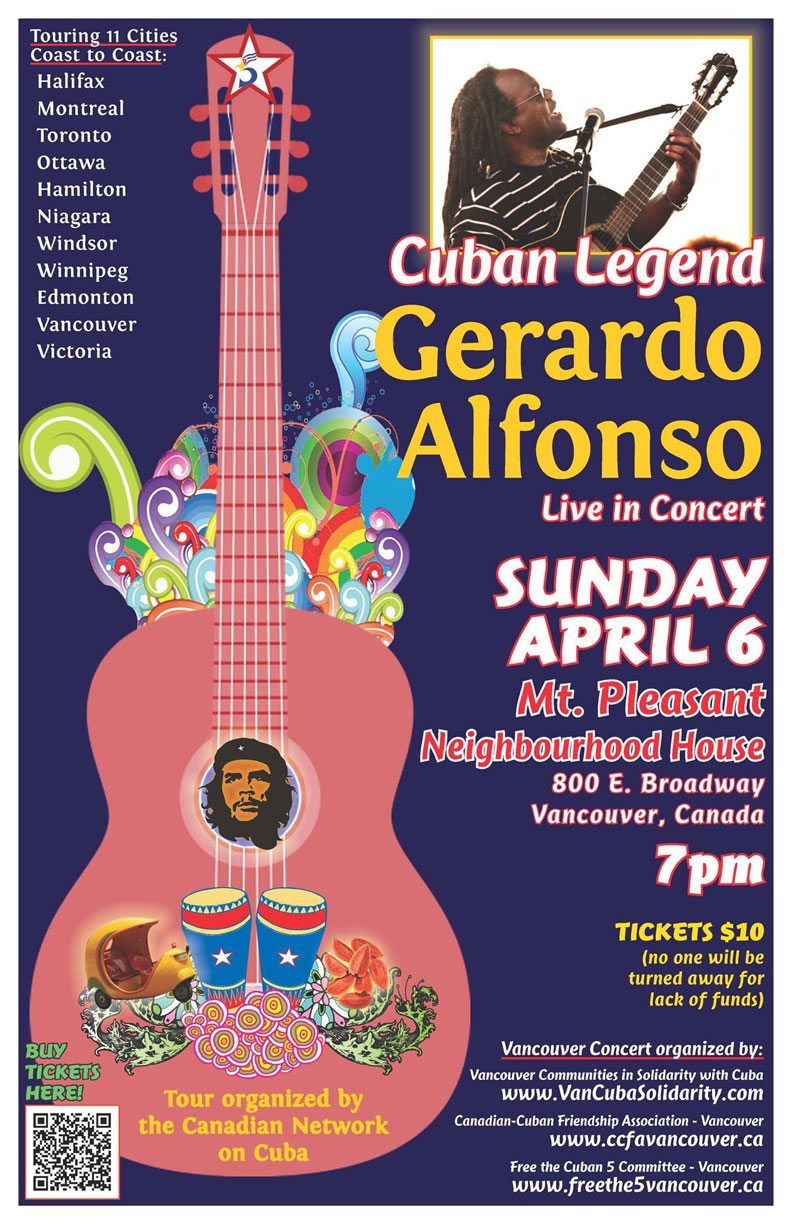 Photo Gallery
Click Photo to Enlarge
Written Report Below Photo Gallery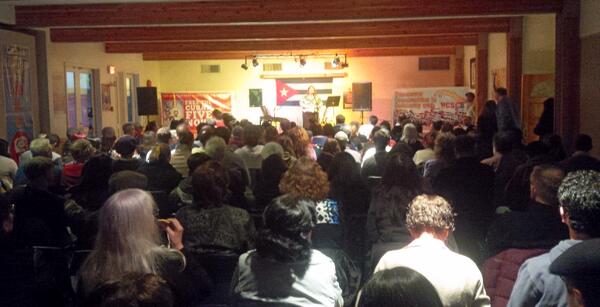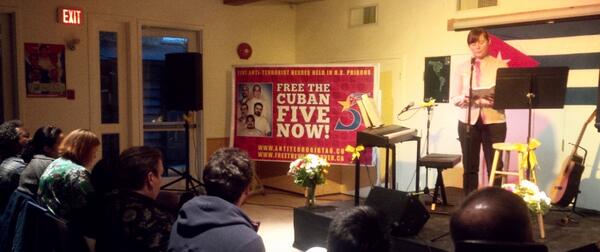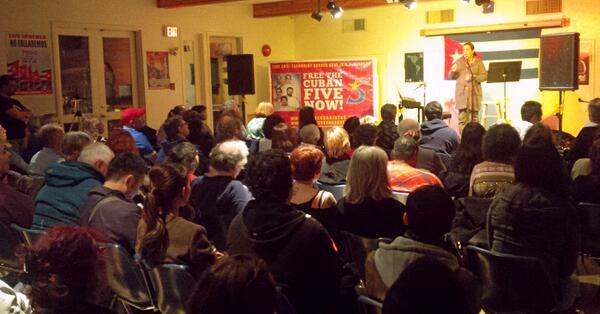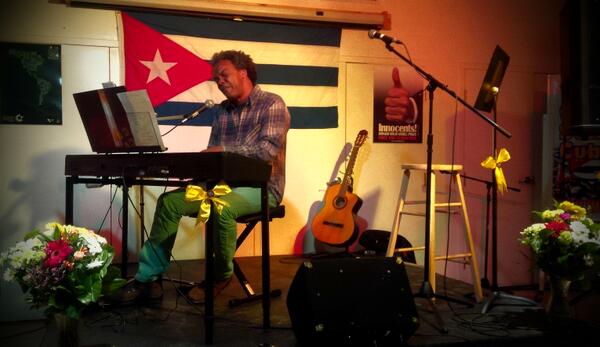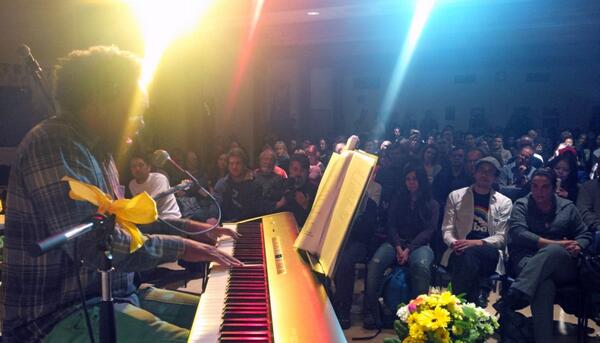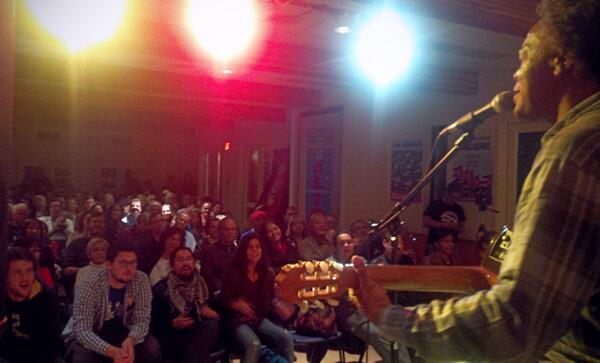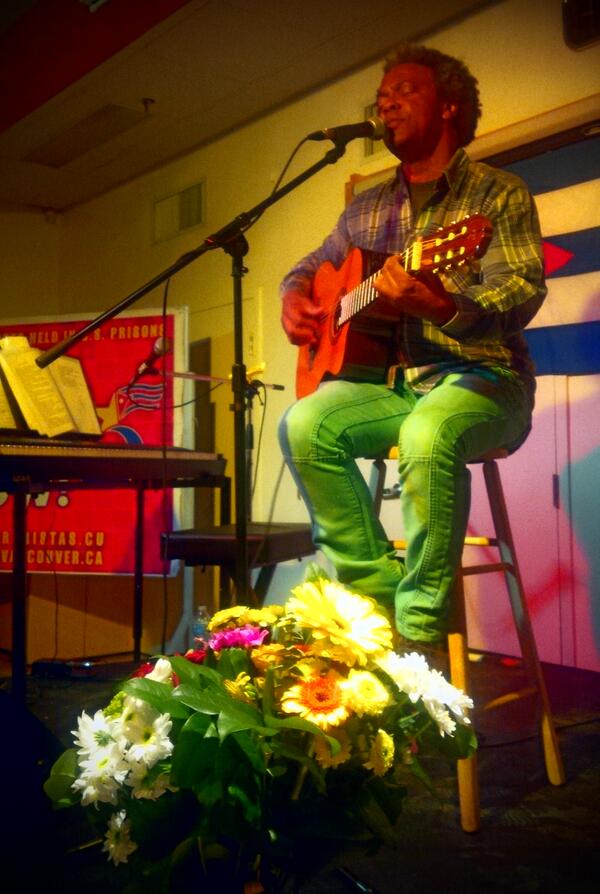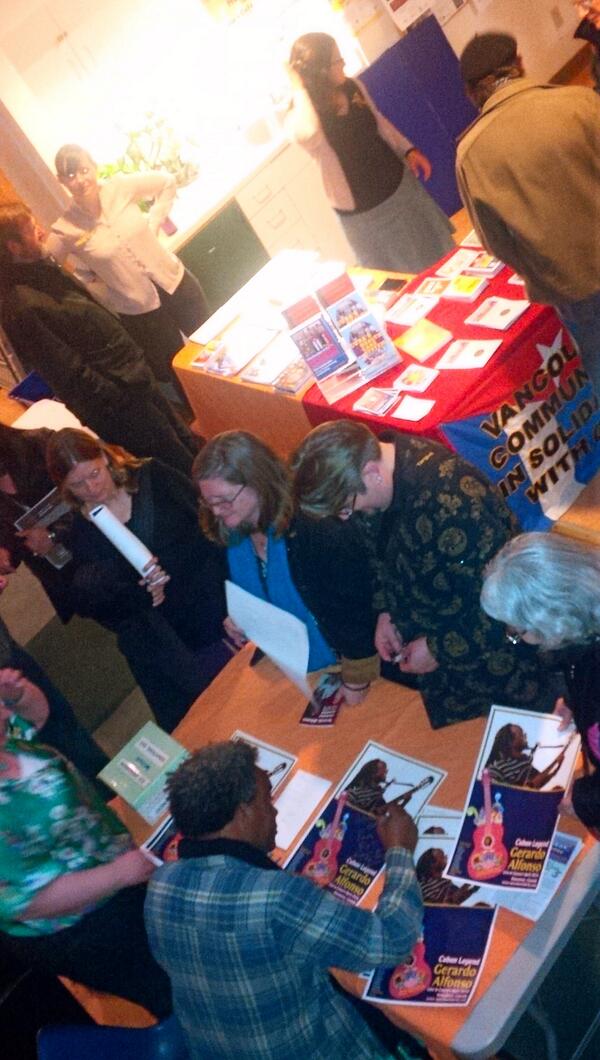 Gerardo Alfonso Moves the Heads, Hearts and Feet of Vancouverites With the Music, Cuban Style!
Cuba Solidarity Tour in Vancouver a Huge Success!


"After so much time and so much turmoil,
We continue forever,
On this long, long road,
That you take,
The end of the century tells us an old truth:
Good times and bad times,
Are a part of reality,
I knew very well you were going to return,
That you were going to return from some place,
Because pain has not killed the Utopia,
Because love is eternal,
And the people who love you do not forget you."


- Excerpt from Gerardo Alfonso song "Son Los Sueños Todavia", "These are Still the Dreams"

The first time Gerardo Alfonso sang, "These are Still the Dreams" was over 20 years ago. He wrote it as a dedication to Che Guevara, who was murdered in Bolivia more than 20 years before that. However, to hear him sing the song, in a crowded room of over 180 people and accompanied by many who didn't even know the lyrics in Spanish but understood the meaning from his melodies and explanations, was another indication that Che's example and the Cuban Revolution have not died and continue to inspire those who desire a better world.

Gerardo Alfonso was able to bring that message of hope and solidarity and spread it across Canada as part of a 11 city coast to coast tour organized by the Canadian Network on Cuba (CNC). His visit to Vancouver brought out over 500 people to a large evening concert and 2 high school presentations. He was also accompanied by Sandra Ramírez, head of the Canada Desk for the Cuban Institute of Friendship with the People (ICAP).

Gerardo's April 6th concert in Vancouver was co-organized by Vancouver Communities in Solidarity with Cuba (VCSC), the Canadian Cuban Friendship Association – Vancouver, and the Free the Cuban 5 Committee- Vancouver. Before the event, a line stretched far outside the venue, and every single chair and leftover area for standing was taken up by people eager to hear the Cuban "nueva trova" legend.

The evening event was MC'd by VCSC Coordinator Tamara Hansen. She introduced Free the Cuban 5 Committee- Vancouver Coordinator Alison Bodine, who reported on the successful 101st monthly picket action in front of the US Consulate in Vancouver. Alison also emphasized that even though René González and Fernando González have completed their sentences and returned to Cuba, the fight for the 3 remaining Heroes in US jails is as important as ever given their long remaining sentences and the growing international campaign demanding their freedom.

Lawyer and former Vancouver city councillor Tim Louis spoke next, expertly summarizing the history of US aggression against Cuba and how the Cuban 5 were sent to Miami to infiltrate anti-Cuban terrorist groups responsible for the deaths of over 3400 Cubans through their violent attacks on the island.

Before Gerardo took to the stage, Sandra Ramírez brought greetings from the Cuban people and the Cuban Institute of Friendship with the People (ICAP). She emphasized the urgency of the campaign to free all of the Cuban 5, and also invited everyone to come volunteer and experience Cuba for themselves on the 22nd Che Guevara Volunteer Work Brigade to Cuba. The room was buzzing with anticipation when Gerardo Alfonso walked up to the stage and began to sing and play his intricate melodies. He would perform two full sets that night, one on piano, and another on guitar. It was a credit to his incredible talent that nobody noticed there wasn't an accompanying band. His songs were that complete.

Between those songs he would pause to explain their meaning. He said, "Love is the most essential of human behaviour," as he dedicated a beautiful love song to the families of the Cuban 5, acknowledging both their hardship and their determination to bring their sons, husbands, and brothers home. Gerardo also spoke about his love for his homeland of Cuba, and of his dedication to the Revolution which faces many challenges but continues to strive forward.

When at last he tried to leave the stage after nearly 2 straight hours of songs of love and hope, the entire crowd rose to its feet to call for an Encore. Gerardo obliged by playing the classic Carlos Puebla song, "Hasta Siempre Comandante" as the audience sang along to the familiar words.

People were slow to leave the hall that night. Many stayed to have posters and books signed by Gerardo and others just stayed to continue enjoying the joyful atmosphere and feeling of togetherness. At the end hundreds of fliers and brochures as well as posters and books about the Cuban 5 Heroes and US blockade of Cuba were distributed and sold to the audience. Excited participants bought all Gerardo's books and cds. Everything was sold out. In fact, Gerardo complained with a smile that there was nothing left for the rest of the Canada tour in Victoria, Edmonton and Winnipeg.

Despite blockades and continued attacks against it, the Cuban Revolution continues to touch people all over the world with its beauty, humanity and stubborn insistence to defend its dignity and independence. Gerardo Alfonso's music and tour across Canada was another example of just that.