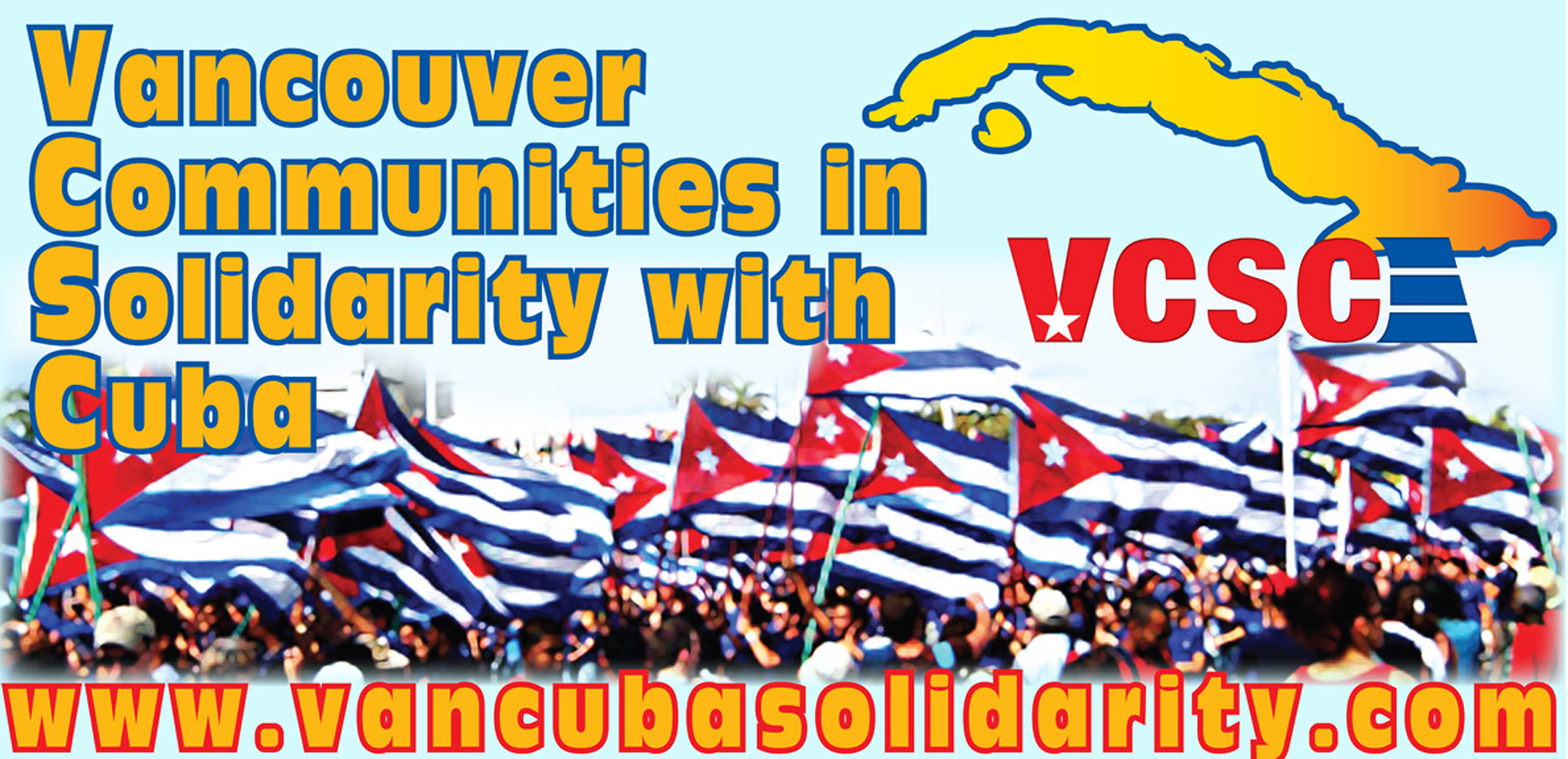 Canada-Cuba Solidarity
Event Announcements, Report-Backs, and Information from Cuba Solidarity Groups Across Canada!

This portion of the VCSC website is dedicated to Cuba solidarity events and information from across Canada. Events and information are listed below by city. If you have an announcement or information you would like to add to this page regarding Cuba solidarity work in your area, please e-mail us at cubacommunities@yahoo.ca!


TORONTO

---
CELEBRATE THE 54th ANNIVERSARY OF CUBA'S REVOLUTION DAY!

Dedicated to Vilma Espín Guillois




---


THURSDAY, JULY 26th
25 Cecil St. – Steelworkers' Hall (1 block south of College & Spadina)
6:00pm – Food and Refreshments
7:00pm – Political & Cultural Program

FREE ADMISSION!



---

On July 26th, 1953 the Cuban people attacked the Moncada Barracks, a symbol of the tyranny and occupation of Cuba under the U.S. puppet regime of Batista. Although the attack was defeated, it raised the banner of struggle, which would lead to the victory of the Cuban Revolution.

Today, under the banner of the Battle of Ideas, the Cuban people offer themselves to millions of people in over 100 countries, with more than 42,000 Cuban doctors, nurses, teachers, sports trainers, engineers and technicians. They train more than 30,000 young people from 118 countries in their universities, totally free of charge and they have returned the gift of sight to almost 700,000 people from 31 countries. In the meantime, the U.S., with the help of its allies, has given safe haven to self-confessed and convicted terrorists like Posada Carriles, who masterminded the bombing of a Cubana airliner in 1976, killing 73 people aboard. At the same time, the U.S. has imprisoned five Cuban patriots whose only "offense" was to protect their country and others, from terrorist attacks, which were being organized on U.S. soil.

LET'S GET TOGETHER TO CELEBRATE CUBA'S REVOLUTION DAY!!!!!!!

NO TO THE U.S. BLOCKADE!
FREE THE CUBAN FIVE!
EXTRADITE POSADA CARRILES TO FACE JUSTICE!

---