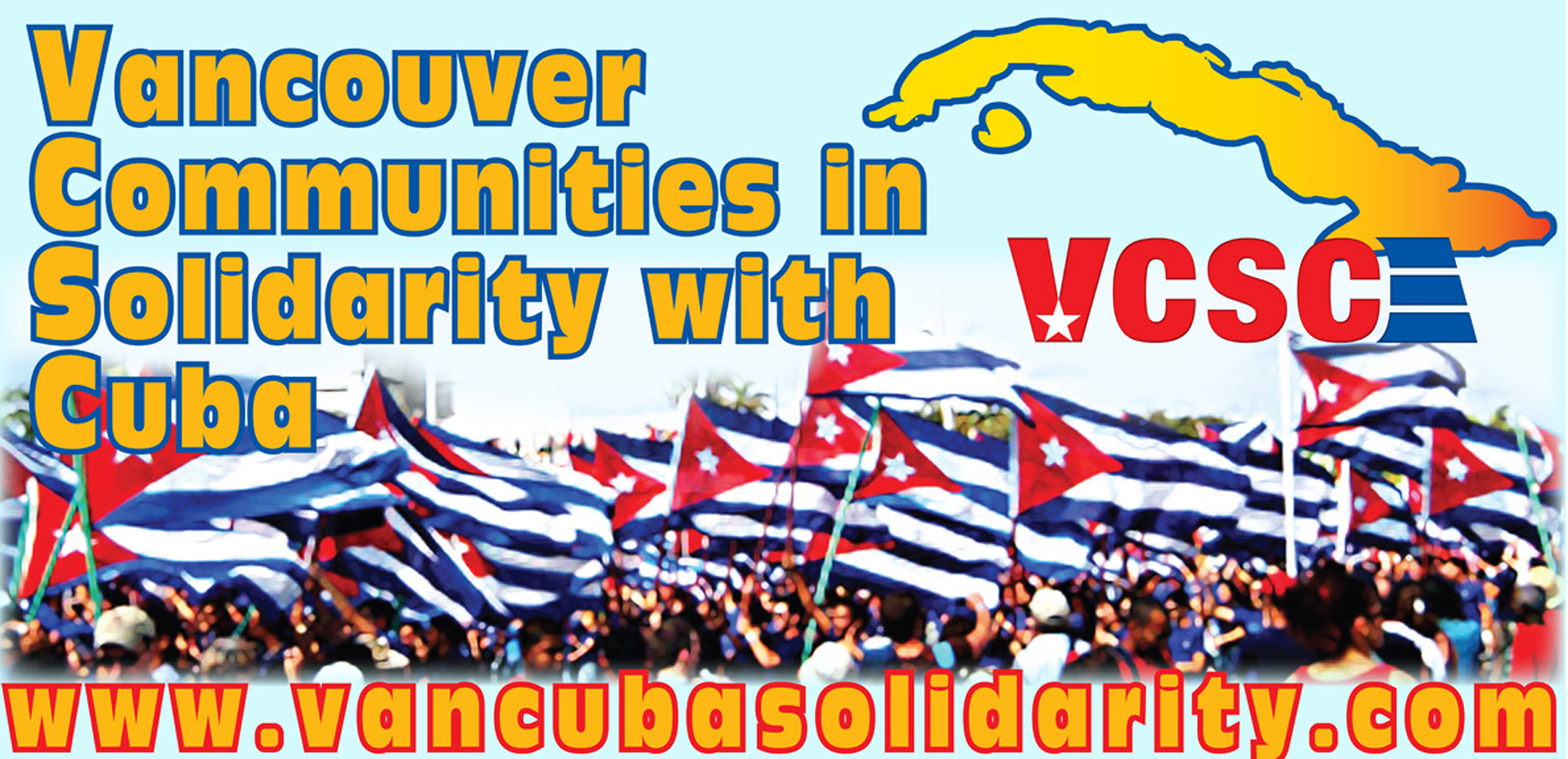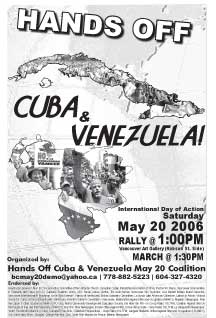 May 20 2006
HANDS OFF
CUBA & VENEZUELA!
Rally & March
Fundraiser & Celebration

Organized by the Hands Off Cuba & Venezuela May 20th Coalition - Vancouver

Click photo to view larger version

Click Here to read the Report on the Fundraiser & Celebration Held After the Rally!







Rally Emcee Wilson Munoz - Coordinator of Unitarian Church Social Justice Ctte




Rally Emcee Tamara Hansen - Coordinator of Vancouver Communities in Solidarity with Cuba



Tim Louis, Former Vancouver City Councillor



Fred Muzin - President of Hospital Employees Union



Marysol Torres - Vancouver Internationalist Bolivarian Circle (Bob Everton)



Leonor Arenas - Other Campaign & Organizations in Solidarity with Atenco & Group of Friends and Family of Mexican Political Prisoners



at the US Consulate



Noah Fine - Coordinator of the Free The Cuban 5 Committee Vancouver



Andrew Barrie - Victoria in Solidarity with Venezuela



Lindsay Clarke - Coordinator of the Capilano Students Union Social Justice Committee


---
May 23, 2006: Citywide Coverage of Vancouver May 20th "Hands Off Cuba & Venezuela" Rally in 24hrs Newspaper!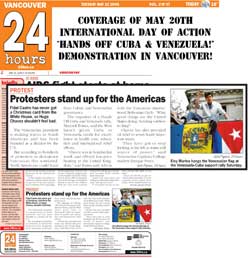 News article & photo in the 24hrs Daily newspaper bring news of Vancouver Contribution to International Day of Action to 150,000 people across the Lower Mainland!

CLICK HERE & SCROLL TO PAGE 4 TO VIEW COVERAGE!

Scroll down this page to view report & photos from the demonstration on our website!


---

The streets of downtown Vancouver were a little louder, a little more energetic and a little more revolucionario on Saturday, May 20th 2006. A broad coalition of 80 unions, student groups, NGO's, grassroots organizations and individuals mobilized over 300 people as part of rallies around North America demanding, "Hands Off Cuba & Venezuela!"

The rally began with chants of "Hands off Venezuela!" and "US Hands Off Cuba!" from co-MC's Wilson Munoz of the Social Justice Committee of the Unitarian Church and Tamara Hansen of Vancouver Communities in Solidarity with Cuba (VCSC).

Long time activist, and former Vancouver City Councillor Tim Louis opened up discrediting the recent U.S campaigns against Venezuela and Cuba. Leonor, from the Other Campaign Vancouver and Organizations in Solidarity with Atenco, then highlighted the recent repression against people in Atenco by the Mexican Federal Police

Marysol Torres of the Vancouver Internationalist Bolivarian Circle "Bob Everton" then emphasized that strength of the unity between Cuba and Venezuela. The energy of the rally flowed into the speech of Fred Muzin, President of the Hospital Employees Union (HEU). He called on all people living in Canada to begin exercising the active democracy seen in Cuba and Venezuela.

With that, people flooded the streets chanting "Viva Cuba! Viva Venezuela!" Students, young people, women, and people of the 3rd world all marched to the US Consulate where co-MC Tamara Hansen read a statement written by the Hands Off Cuba & Venezuelan May 20th Coalition to bring the demands of the rally directly to the Consulate.

Returning to the Art Gallery- Colleen Glynn, an executive of the Richmond NDP, emphasized the current and historical gains of the Cuban and Venezuelan revolutions. Andrew Berry from Victoria Solidarity with Venezuela, who came with a strong delegation of Victoria activists, denounced the absolute hypocrisy of US propaganda campaigns against both countries.

The rally was then greeted by Reverend Lucius Walker, Executive Director of the Pastors for Peace who called from the May 20th rally in Washington, DC. Lifting the feeling the solidarity and buss in the air Lucius was followed by Noah Fine, of the Free the Cuba 5 Committee – Vancouver, announced their monthly pickets at the US consulate to demand freedom for the five anti-terrorist Cuban heroes currently held in US jails.

Lindsay Clarke, Social Justice Coordinator for the Capilano Students' Union summarized by taking her perspective as a student and generalizing it for everyone at the rally, "When students in Canada struggle for access to education. When students in Cuba and Venezuela struggle for self-determination. We must to remember that our struggle is the same struggle. We must stand in solidarity with our Cuban and Venezuelan brothers and sisters in our fight for human rights!"